OLGA KOUKLAKI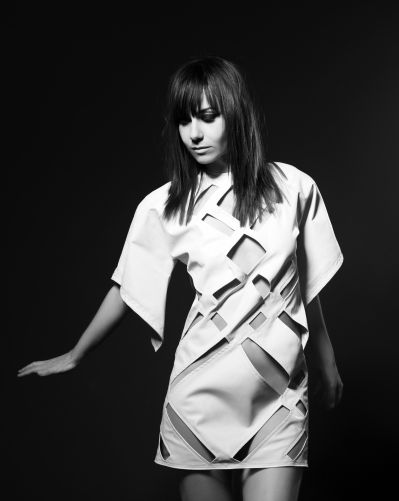 In her second album, Olga Kouklaki blossoms. Entitled "I U Need", the album reveals her talent and influences as well as her blooming femininity.
Her talent takes its roots into her very childhood, when aged 8 the Greek artist started a classical music formation. It then germinated when as a young girl with a fascination for electronic music she launched herself into DJing, soon to become a key figure of the most trendy clubs and bars of Athens. It finally started to open out in Paris, cradle of an attracting sound where she moved to in 2001.
On her first record, released in England in 2003, she asserted a deep and progressive house, but still hide herself under the pseudonym ODD. She then uncovered herself slowly and carefully, looking for an artistic family
that she found in the Label F-Com, with whom she collaborated as a live keyboard programmer for Jay Alanski (aka Reminiscent Drive), or as a vocalist on TV Dinner, a track by Avril who became an artistic soulmate of hers.
Iconic voice of the 2005 song Budapest, a disco-punk cult favorite from French band Poni Hoax, Olga Kouklaki DJs in clubs like Le Pulp or La Mezzanine de l'Alcazar, and plays keyboards for Nouvelle Vague and Bang Bang. Amazed by the range of her talents, the producer of Nouvelle Vague Marc Collin has become her Pygmalion. With his help, Olga finally spread her musical wings by composing "Getalife", her first album. The title track was remixed by Black Strobe (Arnaud Rebotini) and Volga Select and released on a maxi record published by the label The Perfect Kiss (Pias). The same label released her debut album in 2008.
Cheered by Les Inrockuptibles as the "Pythia of an electronica as incantatory as it is languid", her music is described as a "dark pop electronica walking in the footsteps of Chloé or Jennifer Cardini". Olga seduces and imposes a "deep and somber voice" behind which the press is surprised to discover "a little doll (the meaning of the Greek word Kouklaki), both shy and cheerful".
The doll since grew up. "I U Need" is a work of dark splendor that resonates in a pop vibrancy. The album is more visual, more accessible and definitely appealing. Lynch, a key reference of the artist, however still haunts this almost post-punk road trip, which is part glamorous, on the song Sweetheart where Mélanie Pain (Nouvelle Vague) ironizes on the stereotypes of femininity; part cinematic with the western-like guitars of the instrumental track Jukebox; and part hypnotic with its mesmerizing electronic waves and vocals by Liset Alea (Nouvelle Vague) on Hollow Lives, or by Tim Keegan on Who Are You.
"I U Need" is as enticing as it is filled with desire, and definitely makes Olga Kouklaki the electro mermaid of the Mediterranean Sea.
YIANNEIS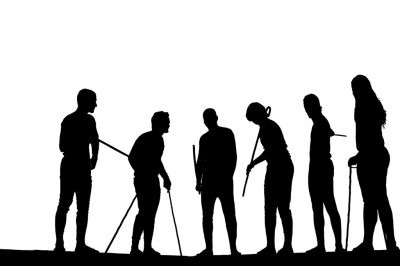 Yianneis were born into the music world in 2009 in riotous Athens, GR. Since then we keep making a fuss, a habit we grew from the very first concert and we'll never give up. After all, we are not only six professionally trained musicians, we are also performers who love to challenge our audiences in a way that they love to talk about later on. Our music is kind of hard to categorize. It ranges from indie rock and art pop to freak folk and trip hop... oh yes, fun it is.
Our avant-garde live show is part concert, part theatrical performance. We combine the precision of a classical orchestra with the creative chaos of any original punk band. What happens on stage appears to be utterly spontaneous, yet it has been built after long hours of rehearsals, conducted in theatrical terms. The audience also plays an important role as we constantly question the limits between the stage and the people. Let us play any time, in front of any kind of crowd, big or small. We make a party that is enthusiastically discussed afterwards.
Cast:
Labros Filippou - vocals, conception
Nikos Zades - vocals, piano, accordion, kaossilator pro, kaoss pad
Nikitas Kissonas - guitars, backing vocals
Dimitris Petrakis - flute, backing vocals, tarabuka, AKAI wind controller
Ilya Algaer - double bass, vocals
Aris Kallergis - drums, backing vocals
Kostas Daskalakis - sound design

--
"The only way you can write the truth is to assume that what you set down will never be read. Not by any other person, and not even by yourself at some later date. Otherwise you begin excusing yourself. You must see the writing as emerging like a long scroll of ink from the index of finger of your right hand; you must see your left erasing it.
Impossible, of course."

Margaret Atwood 2001, The Blind Assassin, p.345
 
Official web pages:
http://www.yianneis.com
http://www.facebook.com/yianneis
https://twitter.com/#!/_Yianneis
CHROMATIC SEQUENCE
Chromatic Sequence is a band that was born in Athens in 2007. George Stefanakidis  (founder and composer of the band) shared his vision with excellent artists. This vision is to blend two music worlds, the one of classical and the one of electronica. The result is a fresh and original sound that is more impressive when on stage! 
 The first album of the band (named "7 Days Away") was released in 2007 and was presented in concerts highly aprecciated for both the music part as for the visuals. Their first self-release album was distributed at the band concerts for free, a gesture that expresses the special link between the band and the audience. 
 In 2010 Chromatic Sequence released their second album "Allou Fun Dark". The project consists of dark songs and theatrical texts (written by George Stefanakidis) and was set up as a musical / theatrical performance in Greece and abroad. 
 The last music project  (called "Belle Epoque") is a step farther in the musical exploration of Chromatic Sequence. The classical parts tend to be more classical and the electronic more electronic! The orchestra grew and the musical demands increased. The melodies are mixed with songs, breaks, loops and beats, creating weird sonic landscapes that teeter between ambient and noise without ever losing the music's melodic interest.
Chromatic Sequence are:
George Stefanakidis - compositions, arrangement, lyrics & texts, guitar, laptop
Marina Kolovou - cello
Eleftheria Togia - viola
Stamatela Spinoula - violin
Christos Serenes - piano
Maria Lavranou - flute
Nikos Pagwnis - drums
Mairi Stefanakidi - vocals
Evelina Arapidi - performer/actress
Dimitris Karpouzas - sound engineer (live & studio)
blog:          http://chromaticsequence.blogspot.gr

facebook: https://www.facebook.com/chromaticsequence

YouTube: http://www.youtube.com/watch?v=QvFWXUaEKDg&feature=plcp
                   http://www.youtube.com/watch?v=C4yfjTjvRV4&feature=context-cha
                   http://www.youtube.com/watch?v=18i4Ip4gnMw